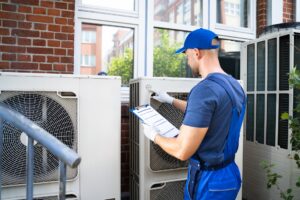 As you're probably already aware, 24Hr Home Comfort Services is a professional HVAC company. When we say professional, mean from start to finish we take care of people's heating systems, air conditioners, and indoor air quality units.
Our staff is trained, certified, licensed, insured, and set up so you have absolutely nothing to worry about when you call us.
We know cost can play a real factor. Professional HVAC technicians simply cost more to hire than amateurs or even a family friend that might do work for free. How can you beat a deal like that?
Well, when something goes wrong, or if your AC repair in Lake in the Hills, IL is a bit more complicated than just a screw tightening, you'll wish you called a licensed team like ours. Here are all of the comprehensive benefits you get when you decide to call our team, or a professional team like ours.
Certifications, Licenses, and Training
Let's get one thing out of the way first–HVAC systems, from their most simple components to the parts that are engineering marvels, are complex. You can't really get all the information you need about your system from an online guide or doing your own research at the library.
In fact, that might instill a misplaced sense of confidence that you can fix your own air conditioner, when in fact you might do more damage trying to do something on your own.
HVAC professionals, like the ones on our team, go through rigorous training on a regular basis so they know how to fix, install, replace, and even maintain HVAC systems, from furnaces to ductless heat pumps.
Then, once they're trained, they take courses and exams to become licensed or certified, which is basically a way of showing that they can do the work you need.
Make sure your prospective HVAC technician is certified, licensed, and well-trained in their field. You'll be happy you did.
Experience, Community Engagement, and Reviews
The next step when you've found a team that's licensed and certified, is to check how the local community views them.
Start by looking at how long they've been in business and how long people have been relying on them. An older company can be a community staple point, and they've got a reputation to uphold, which means they're more likely to be honest with you. We've been in business for over 60 years, and that's for a good reason!
Then, check out how the company interacts with the community, especially through reviews. A reputable company will always respond to customer complaints, but will also have a high star rating from returning customers who always feel satisfied. This is a good sign that you're choosing the right team.
Guarantees, Deals, and More!
The journey doesn't stop there! Many companies provide great promises and incentives for customers to choose them. For instance, we offer 24/7 emergency services, and all of our services and systems are backed by a 100% satisfaction guarantee.
These kinds of deals can help ease stress and make you feel better about choosing a team that you feel comfortable with.
It's time to contact 24Hr Home Comfort Services Inc. Your Heating and Cooling Specialists.